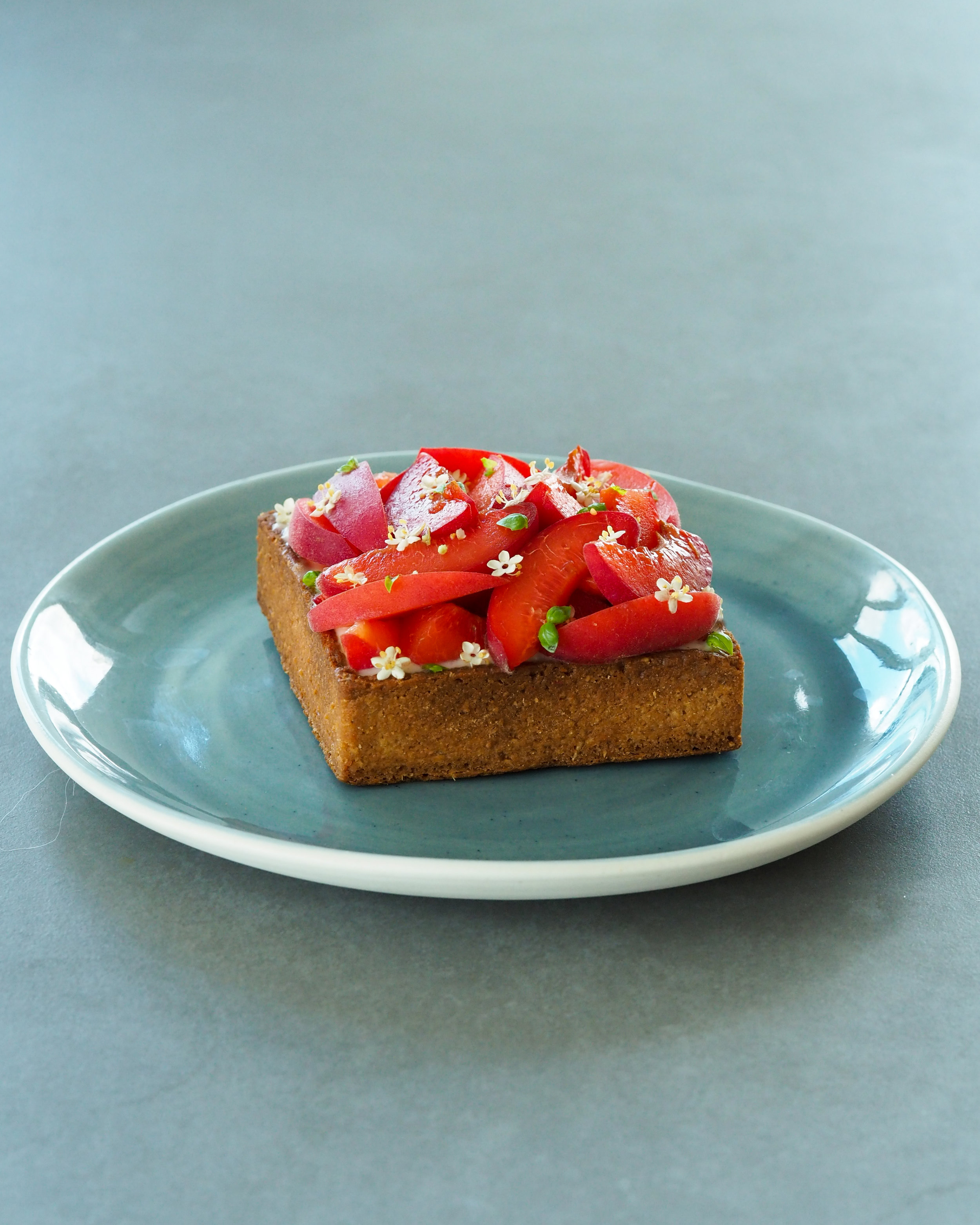 I recently came across sunset red apricots at the market, and I had to take some home. I absolutely love apricots, raw, poached, roasted, grilled.. In cakes, sorbets, on yoghurt. Pretty much anything I can think of. But most of all I love apricot tarts, be it baked in an almond cream or like here on top of a luscious elderflower cream and decadent salted caramel.
I wanted to give the apricots a little "oomph", and normally I would turn to lemon verbena, rosemary or thyme, but today I wanted to try and combine it with one of my favourite pairings for early summer: Basil and elderflower. The earthiness of the basil balances the sweet, floral quality of elderflower and the sweet apricots just brings it all together. A perfect treat for a June afternoon tea (or just an afternoon treat).
Apricot tartlets with elderflower and basil
8 small tartlets
1 quantity tartlet shells (just make eight 7,5cm tartlet shells)
Basil salted butter caramel
200g sugar
60ml water
2 Tbsp. glucose syrup
50g salted butter
75ml heavy cream
15 basil leaves
Warm up cream to below boiling and stir in the basil leaves. Leave to infuse for 30 minutes In a large saucepan, bring sugar, water and glucose syrup to a rolling boil. Cook, stirring occasionally, until the sugar turns into an medium amber caramel. Remove from the heat, discard the basil leaves from the cream and whisk in the butter and cream until homogenous. Be careful, it it bubbles and warm caramel can cause burns. Spoon a little hot caramel into the tartlet shells, and allow to cool for an hour or two.
Elderflower pastry cream
180ml heavy cream
180ml whole milk
2-3 Tbsp. elderflower cordial
50g sugar
2 Tbsp. corn starch
4 large egg yolks
Pinch of salt
Whisk together the sugar and cornstarch before mixing in the egg yolks. Bring cream and milk to a boil in a saucepan and pour about 1/3 over the egg mixture to temper the eggs, before returning the milk/egg mixture to the saucepan. Cook, while stirring, until temperature reaches 85C. Remove from heat, stir in elderflower cordial and season with salt. Transfer to a bowl, press a piece of clingfilm directly against the surface of the pastry cream and chill completely. When ready to use pipe the pastry cream directly onto the caramel layer.
Finishing
24 ripe red apricots or 12 yellow, pitted and cut into thin wedges
Micro basil
Fresh elderflowers, if you can find them
Artfully arrange the apricot wedges on top of the pastry cream. Sprinkle on fresh elderflowers and micro basil. Serve soon after finishing.